2OACH DELUXE HEAT PUMP SERIES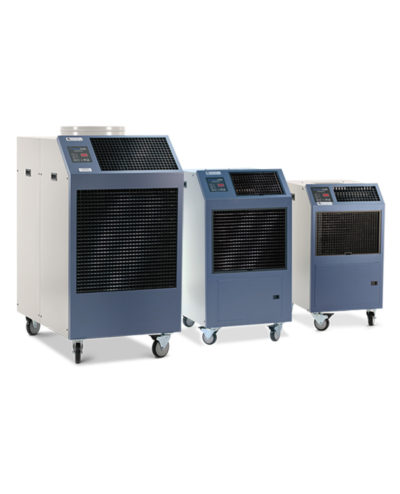 2OACH STANDARD FEATURES
Premier Portable Reverse Cycle Heat Pump
Deluxe Electronic Controller with Large LED Display
Automatic Mode Changeover Between Heat & Cool
Automatic and Manual 6-Speed Fan Control
Available in Voltages: 115, 230, 230/3, 460/3
Rear Swivel Casters
Front Swivel Casters with Brake
10-Foot Power Cord LCDI (Some Models)
Washable Electrostatic Air Filters
Built-in Hour Meter Records Compressor Operating Time
Manual reset High-pressure safety switch
Equipped with a Condensate Reservoir Tank
5-ton models equipped with Automatic Condensate Pump
Powder Coated 18 Gauge Sheet metal Cabinet
UL Listed (U.S.A. and Canada)
Made in the U.S.A.
Air Source Portable Heat Pumps
Air-source portable heat pumps are the most efficient way to employ spot heating in a wide range of uses. Portable heat pumps can produce far more heat than electric space heaters – about 3 times as much heat while operating more efficiently. OceanAire's deluxe portable commercial air conditioning units are also safer than electric space heaters which present obvious fire hazards.
OceanAire's air-source portable heat pump units include:
2OACH Series (12,000 BTU/HR to 60,050 BTU/HR)
Common uses for portable heat pumps include:
Supplemental Heating
Emergency Heating
Spot Heating for Specific Areas
Backup Heating for HVAC Repair during Renovation / Upgrades
A heat pump is often used as a supplemental heat source within office buildings, retail spaces, manufacturing/storage, and process heating, inside schools, hospitals and often for special events. The most common type of portable heat pump uses ambient air to heat a space. All that is required is to simply plug the portable heat pump unit in. There is no outside access needed to dispel exhaust.
What is a Portable Heat Pump?
A portable heat pump works in the opposite way a portable air-sourced air conditioner works. The air-cooling process is used to produce heat.
Portable heat pumps are a relatively new technology that enables spot heating (and often cooling as well) in a wide range of environments. OceanAire manufactures a range of portable heat pumps to suit various applications. Whether for emergency heating or to provide temporary heat in any space, we manufacture a product that will suit your heating needs quietly and efficiently.
How Does a Portable Heat Pump Work?
A portable heat pump works like a portable air conditioner but in reverse. Instead of discharging the hot air 'byproduct' through ducting to an external outlet, a portable heat pump disperses hot air into the room. Using ambient air to heat a room is a far better way to warm a space. Quiet and efficient portable heat pumps from OceanAire are quality built to last and are made in the USA for years of commercial and industrial heating applications.